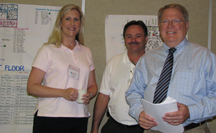 Salina, KS, May 16, 2009 -- "We've got it all in Kansas," said AFT-Kansas President Lisa Ochs, as she welcomed representatives to AFT-Kansas's "Orientation to Organizing," a weekend conference held  this May in Salina.  "AFT represents public employees, teachers, nurses, paraprofessionals and higher education, and so does AFT-Kansas, right here in Kansas."
But with the economic strain of the recession, said Ochs and other speakers, AFT-Kansas members must mobilize each other to strengthen the union voice in every workplace.  With a new sense of urgency, 30 representatives of AFT-Kansas Locals jumped into two days of practice as experienced AFT organizers shared years of one-on-one listening and door-to-door campaigning.
One of the first tasks of the weekend was to identify the challenges facing AFT-Kansas in its  new commitment to organizing: reaching out and activating, mobilization, unity and, as one eloquent leader put it, "pushing back against fear and apathy."
Sherry Carter of United Teachers of Wichita, Local 725, AFT/NEA said, "We have to stand up and speak for ourselves. Then the other issues will take of themselves." Bill Glover of  the Kansas State University Employees Association, AFT Local 6400, said, "Many of our members don't know what a union is or how it's supposed to function. We have to keep educating them. They need to know that their union isn't just at the end of a phone call to Topeka. It's right here."
Jean Martin of the Kansas Organization of State Employees, Local 300, AFT/AFSCME described her fellow workers' approach to her work with KOSE. "They say, 'You go, Jean, get out there!'" she recalled. "But they don't want to help me. So I tell 'em, 'KOSE just fought really hard in the Legislature and we saved your bacon, so sign this card!" Kathy Gann of United Teachers of Wichita agreed. "My colleagues really like what the union does. Now we're asking them to put their money where their mouth is."
Steve Porter, director of AFT's Public Employee division, introduced AFT-Kansas leaders to the science of organizing. "It's systematic," he said. "We use wall-sized  maps and charts to direct each step of a campaign." Through role-playing, participants practiced "the organizing conversation," learning how to listen – really listen – to fellow employees' views on work and the union.  Then they got a taste of "charting" when they studied a wall-sized diagram of a government worksite. It showed in graphic detail each employee's location and what he or she thought about the union.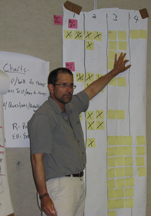 Ann Mitchell, director of AFT Organization and Field Services, congratulated the AFT-Kansas leaders on taking an important step when they joined AFT's state federation partnership program. Organizing was one of the most important goals set forth by the AFT-Kansas Executive Board at a retreat earlier this year. The program will bring extra resources to AFT-Kansas, but will also require hard work and results from the 13 local unions that belong to the Kansas state federation.